Well-being Indicator Tool for Youth
Well-being Indicator Tool for Youth (WIT-Y)
The WIT-Y is a guided self-assessment tool for youth ages 15-21 that encourages youth to explore their own sense of well-being across eight domains by asking them to rate each domain on a five-point continuum, ranging from "In Crisis" to "Doing Great." Examples of varying levels of well-being are presented to facilitate this process. At the end of the tool, the youth will be given a graphic representation (called the Well-being Snapshot) of their levels of well-being in each domain. The tool is intended to promote discussion between a youth and their worker, but could be used in a number of other ways.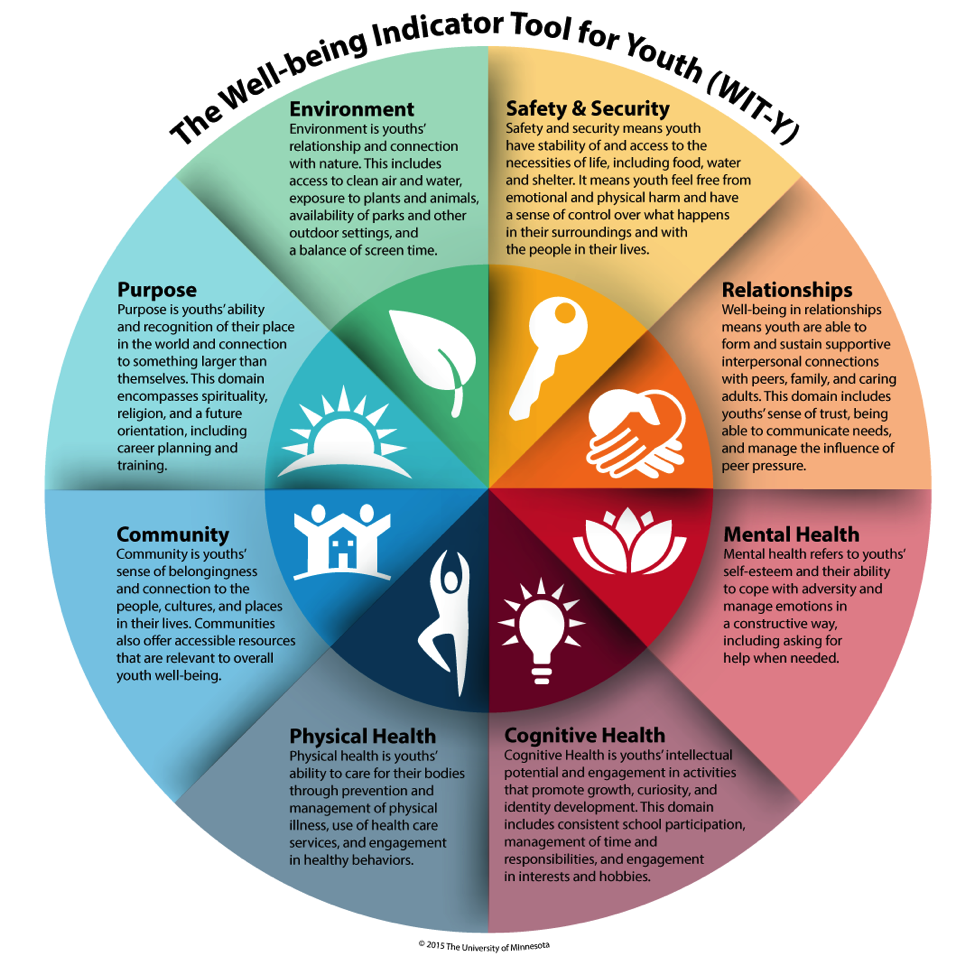 Here is the link to the Center for Advanced Studies in Child Welfare site with WIT-Y materials:
http://cascw.umn.edu/portfolio-items/well-being-indicator-tool-for-youth-wit-y/
Download the Tools:
WIT-Y User Guide (PDF)
Sample WIT-Y Blueprint (PDF)
WIT-Y Blueprint (PDF)
-No information entered into these tools is viewable or saved by us. They are entirely for your individual use and should be printed if you need to save them.
---
Acknowledgements
Anu Family Services contracted with the Center for Advanced Studies in Child Welfare (CASCW) at the University of Minnesota to develop the Well-being Indicator Tool for Youth (WIT-Y). The staff at CASCW are grateful for the partnership and ongoing collaborations with Anu Family Services and its staff.
The Center for Advanced Studies in Child Welfare would also like to acknowledge the contributions of others who have assisted in the development of the WIT-Y, speci cally Dr. Mary Jo Kreitzer and the Center for Spirituality and Healing at the University of Minnesota and the Foster Care Work Group, of the Youth Transition Funders Group. The WIT-Y was also informed through the National Indian Child Welfare Association's Relational World View model. Finally, we wish to acknowledge the youth, parents and professionals who gave their time to participate in focus groups and content review teams.
Sign up to receive our agency newsletter